Shopping Basket
Your Basket is Empty
There was an error with PayPal
Click here to try again
Thank you for your business!
You should receive an order confirmation from Paypal shortly.
Exit Shopping Basket
| | |
| --- | --- |
| Posted on 29 April, 2016 at 20:50 | |
The pressure is on to find sustainable ways of producing energy. Bioenergy is one such choice and there are many ways of producing it – anaerobic digestion, fermentation, gasification, etc., but these processes operate at harsh conditions of temperature and pressure making the scale up process difficult. Microbial fuel cells seem promising; they use bacteria to turn organic waste matter into electricity. They are cheaper to operate than traditional processes and produce less waste. But their low power output efficiency has limited their commercialization. Generally, these fuel cells employ a cathode made of platinum. Though this catalyzes the reaction, it adds a lot to the manufacturing cost.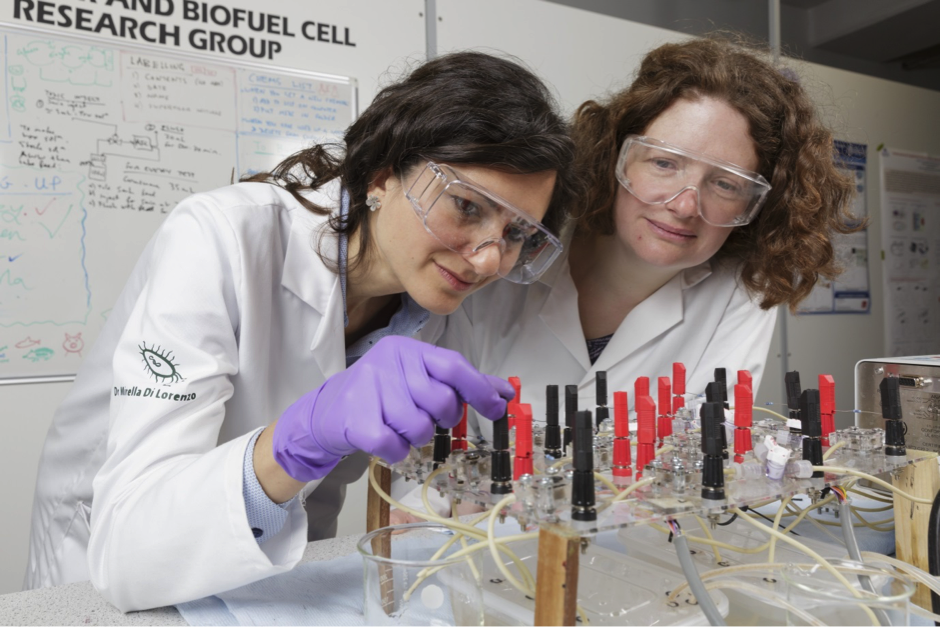 (Prof. Mirella Di Lorenzo (left) and Prof. Petra Cameron (right) in the lab working with microbial fuel cells.)
Researchers from the University of Bath (Profs. Mirella Di Lorenzo and Petra Cameron), Queen Mary College at the University of London (Prof. Maria-Magdalena Titirici and Katherin Preuß;), and the Bristol Robotics Laboratory have come up with a new design for Microbial fuel cells that convert waste matter, like urine, to electricity. What's remarkable about their design is that they completely eliminate the use of platinum! They used carbon and titanium wires as the cathode material, and glucose and ovalbumin, an egg protein, as the catalyst in their fuel cell design.
On average, a person produces 800 to 200 ml of urine per day. When multiplied by the global human population, this means that somewhere between 600 billion and 1.4 trillion mls of urine production will be produced in a single day. If these fuel cells can harness this resource, Prof. Mirella Di Lorenzo (Univ. of Bath) believes that it can revolutionize the way we produce electricity.
"We aim to test and prove the use of carbon catalysts derived from various food wastes as a renewable and low-cost alternative to platinum at the cathode. We have shown that the cell design has an incidence on performance and we want to further investigate the relevance of electrode surface area to volume ratio on performance. Our aim is to be able to effectively miniaturize the MFC and scale-up power production by generating compact batteries of multiple miniature units," added Di Lorenzo.
Mirella Di Lorenzo is a Lecturer and Director of post-graduate studies in the Chemical Engineering Department at the University of Bath. Her research interest lies in finding ways of making micro biofuel cells as practical source for power in number of biomedical devices including cardiac pacemaker, glucose sensors, bladder control valves, neuro-stimulators, etc.
Maria-Magdalena Titirici is a Professor in Sustainable Materials Chemistry and Director of the Centre for Functional Nanomaterials at Queen Mary, University of London. Her research interests include porous materials, hydrothermal carbonization, biofuels, CO2 sequestration, electro-catalysis in fuel cells as well as energy storage in secondary batteries and super-capacitors.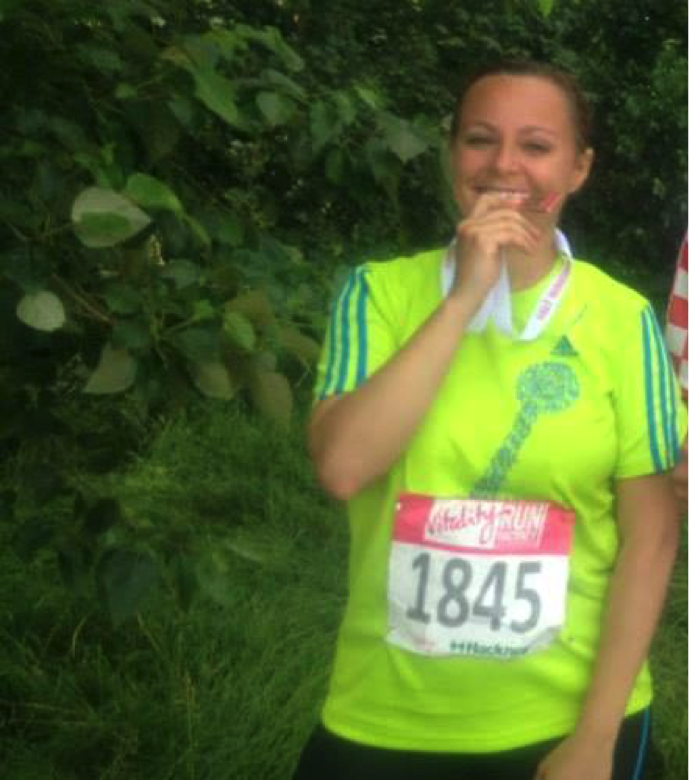 (Prof. Maria-Magdalena Titirici enjoys outdoor sports. This is her picture taken after running the Hackney Half-Marathon.)
Petra Cameron is an Associate Professor at the University of Bath. She is an expert in the preparation and characterization of photovoltaics, photo-microbial fuel cells and sensors. In 2009, she won the Harrison-Meldola prize from the Royal Society of Chemistry for her work on solar cells. Her group also studies surfaces and interfaces using electro-chemical and surface plasmon resonance techniques.
Kathrin Preuß is a PhD student at Queen Mary (London U.). She works on Pt-free electro-catalysts for the oxygen reduction reaction in fuel cells.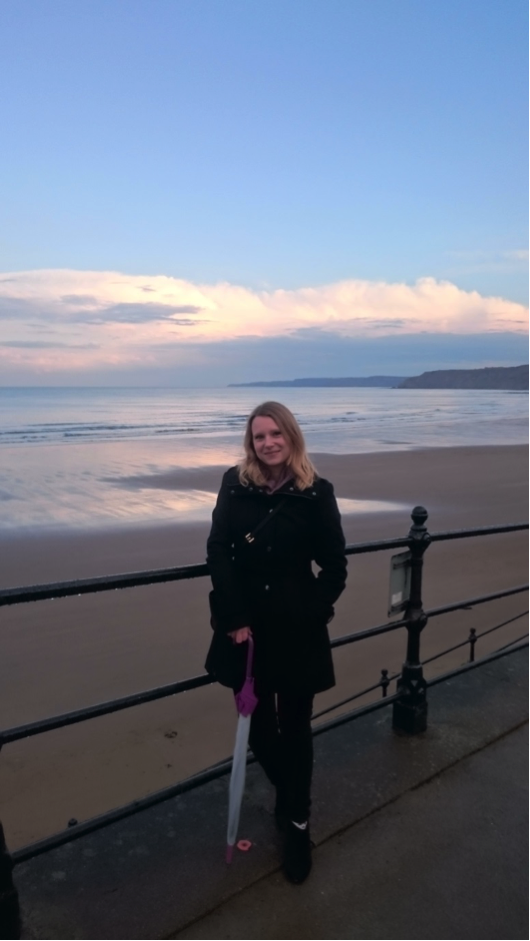 (Katherin Preuß at the 2016 Sustainable Functional Materials conference at Scarborough.)
- Written by Nakita Sengar, edited by Paulette Clancy
(Photo credit: Provided by and used with permission from Prof. Mirella Di Lorenzo, Prof. Maria-Magdalena Titirici, Prof. Petra Cameron and Katherin Preuß.)
Categories: WINnews
/