Shopping Basket
Your Basket is Empty
There was an error with PayPal
Click here to try again
Thank you for your business!
You should receive an order confirmation from Paypal shortly.
Exit Shopping Basket
Some good news….. According to NSF figures released today, the number of women engineering doctorates in the U.S. almost doubled over the 10-year time span, 2005-2015. In 2005, there were 1182 women doctorates awarded in engineering. In 2015, that number was 2301 (95% higher). The number of women doctorates in chemistry and physics also increased: there were 1077 chemistry PhD degrees awarded to women in 2015 (up 49%). The number of new women physicists and astronomers with doctoral degree rose 82% to 454. Women PhD degrees in mathematics and computer sciences rose from 547 in 2005 to 943 (up 72%).
Now the less good news…. The percentage of women gaining PhD degrees in engineering was 18% in 2005 and 23% in 2015. At this rate, women engineering doctorates will achieve parity with men in about 50 years. Hang in there, ladies, your grandchildren will hopefully see no gender difference among engineering PhD graduates. Worth waiting for!

It's time again to vote for your favorite nanotechnology superhero. NSF's Nanotechnology Coordination office has just announced the finalists of their annual Gen Nano contest. Take a look!
Do you prefer Agent X's fight against the deadly Leukos (Leukemia) using nanobots and nanosensors, or Mia Kei, super cop in her nanotechnology-enhanced suit, or Nanonite-Man's fight against the evil Cancer?
The Christmas season is centered around children. WiN hopes that many of their Christmas gifts were books, especially those with an unvarnished view of the world. And when we think of children's books, one of the first names that comes to mind is Beatrix Potter, the author of the beloved Peter Rabbit stories. But did you know that Beatrix Potter was a scientist?
Beatrix was not allowed to go to school like her brother, Bertram. She spent a lot of time outdoors observing nature and visiting the wonderful South Kensington Museum (now the Science Museum) in London. She was the first to notice that lichens were a pair of organisms whose survival was intertwined, a concept we now call symbiosis.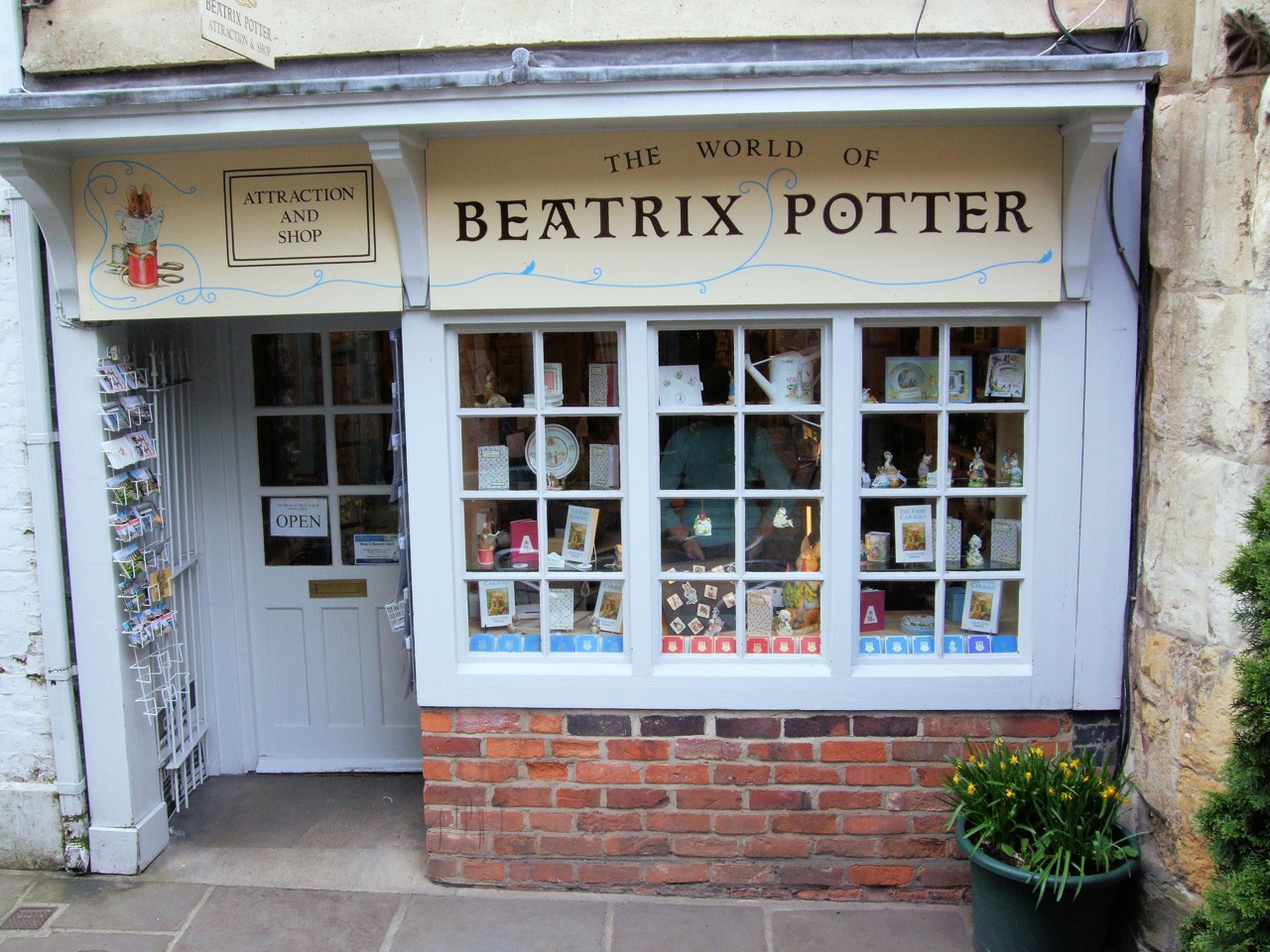 As described in Famous Scientists, she was given the only allowed to present her work to The Linnaean Society of British Scientists because her well-heeled uncle pleaded her case. She was not allowed to read her paper, "On the Germination of the Spores of Agaricineae," because the Linneaean Society was male-only. And her paper was not well accepted by this patrician society. Her frustrations with the constrictions of woman's place in Victorian society are quite visible in her children's books. Her childhood diary was released after her death in 1943; it shows her frustration at being shut out of science.
One of WiN's New Year resolutions is that we exploit the scientific talents of all the world's citizens, and not just half.
- Written by Paulette Clancy
Photo Credit to: Store: Jim Linwood, "Beatrix Potter's House of the Tailor of Gloucester Museum - Gloucester;" Peter Rabbit: Neil Piddock, "Beatrix Potter.")
This was a banner week for women programmers to be recognized for their contributions to science: The Medal of Freedom was awarded posthumously to "Amazing Grace" Hopper by President Obama.
Grace Hopper is an inspiration to all of us women programmers. She wrote software codes when there was barely a true "computer" to use it on. She started in the 1940s and continued contributing to the field for four decades. Beyond her ability to inspire women who follow in her large coding footsteps, her crowning glory was probably the achievement of creating the very first computer compiler which translates codes from one language to another (often closer to machine code). She was a computer scientist before the term existed. She taught mathematics at Vasser College. She joined the Naval Reserve in WW II and gained the rank of rear Admiral. She was a research scientist at Harvard. Last week she was awarded the Medal of Freedom posthumously by President Obama; sadly she died in 1992. The Anita Borg Institute runs an annual Grace Hopper conference as a "celebration of women in computing" which has become the world's largest gathering of women in technology.
- Written by Paulette Clancy
Yes, there are too few women who are trained and employed as software engineers, but there are women out there quietly programming their way to history. And some of them have been doing this for decades. Case in point, Margaret Hamilton helped write the code that allowed astronauts Armstrong and Aldrin to land on the moon in 1969. Last week she was awarded the Medal of Freedom by President Obama.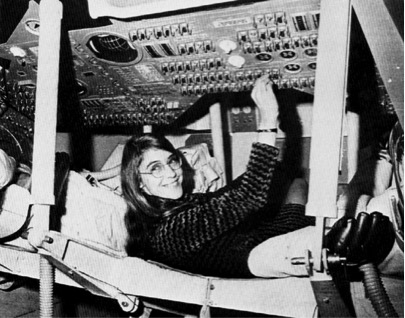 (Margaret Hamilton inside a mock-up of the Apollo command module. Photo Credit: MIT)
Read an intriguing article from Wired in 2015 that talks about Hamilton's career as a young mother working on the Apollo mission, and being "one of the guys" in the programming team.
- Written by: Paulette Clancy

It's time to vote for your favorite visual representation of science and engineering. Yes, it's the 2017 "Vizzies". The finalists have been selected but your vote will determine the winners. Categories exist for photos, videos, posters, interactive. VOTE VOTE VOTE here.
2016 Winner: Walking in Color. Credit: Daniel M. Harris and John W.M. Bush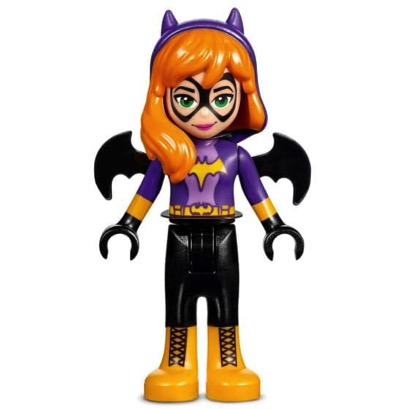 One of WiN's favorite pastimes involves playing with Legos and now they have introduced a new line of all-female superheroes (superheroines): Wonder Woman, BatGirl, etc. Lego's objectives are that these new characters will inspire girls to be "smart, courageous and empowered to be an everyday Super Hero." We can't argue with that, especially just in time for the Holidays.
For more details, read here.
Graphene caused a lot of excitement with its one atomic layer-thick form and extraordinary properties. But this just opened the door to a whole load of other new 2D materials. Some of the more successful ones so far have been transition metal dichalcogenides (TMDs) like sulfides, selenides and tellurides of molybdenum and tungsten (MoS2, WS2, WSe2, WTe2, MoTe2 and MoSe2. These ultimately thin sheets of atoms are held together by relatively weak van der Waals forces, but have interesting hold optical, electronic, and mechanical properties.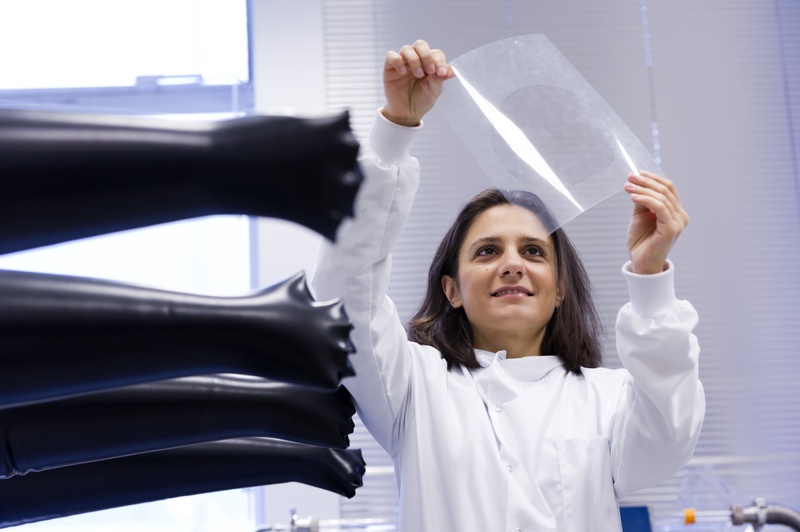 Unlike graphene sheets (which are metallic in bulk), these TMDs have a direct band gap in the visible-near IR range, like silicon, which is the heart of modern electronic devices. They also have high carrier mobilities and large on/off ratios, like Si, but their nanoscale dimensions offer new approaches for electronics, integration with photonics, even quantum electronics. TMDs also tolerate the mechanical flexion needed if deposited on flexible supports.
The critical need in this area is to be able to synthesize TMDs as highly crystalline bulk and thin films. Cecilia Mattevi (Imperial College London) has recently published a high profile review that summarizes progress towards making high quality TMDs more attainable, even at wafer scale. [Reale et al., Applied Materials Today 3 (2016) 11].
She and her colleagues describe how well established chemical vapor transport methods developed in the 1970s and 1980s are now being extended to produce bulk single crystals of group VI chalcogenides, like the ones listed above. CVD growth of TMD thin films, like MoS2 and WS2, has been achieved using volatile chemical intermediates at lower temperatures. If you want very thin layers, ultrathin transition metal or metal oxide films can be made into TMDs simply by furnace heating with chalcogen vapors or using physical vapor deposition. They even detail a one-step method that creates atomically thin TMDs by evaporating metal oxide and chalcogen powers simultaneously. This approach produces high-quality TMD monolayers with grain sizes up to the millimeter scale.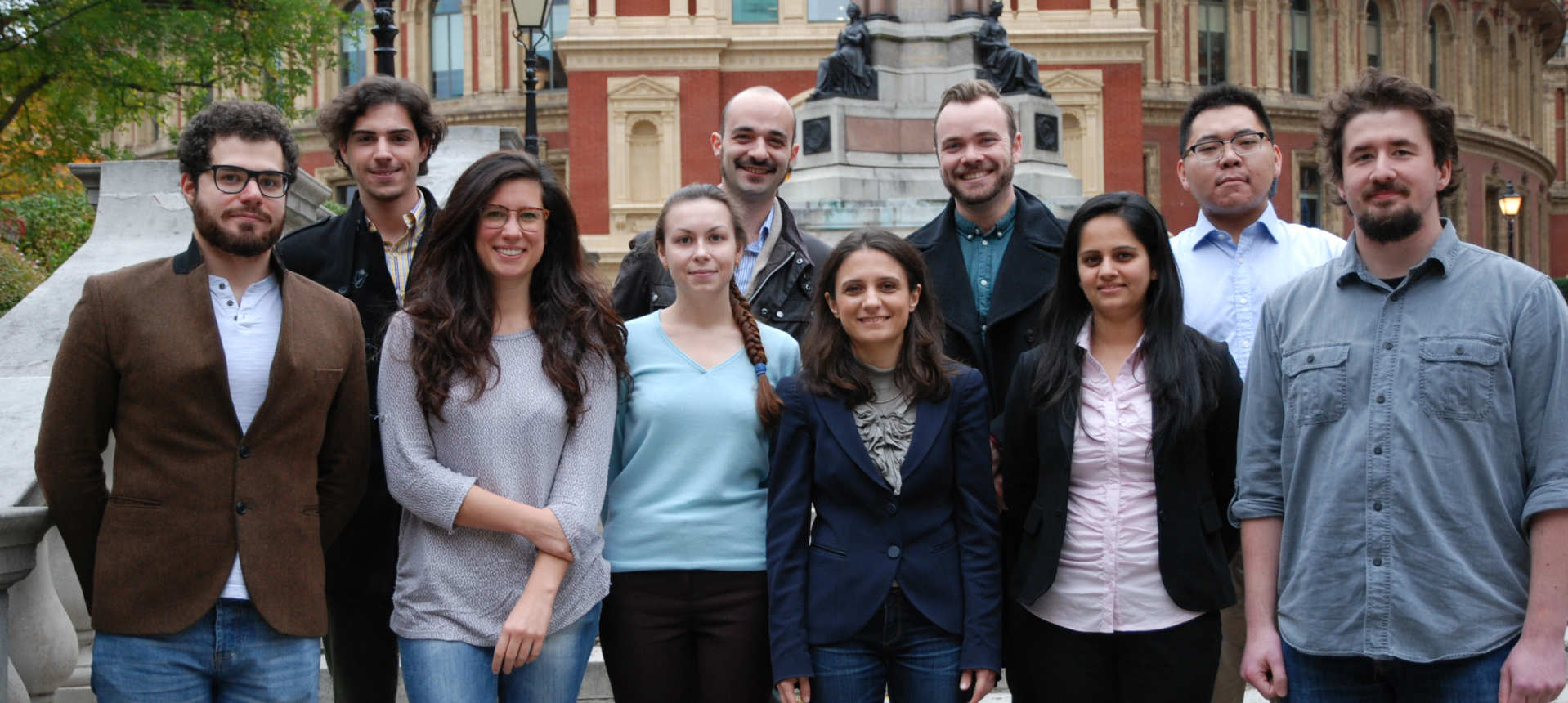 (Cecilia Mattevi's research group at Imperial College.)
Cecilia Mattevi is a Royal Society Research Fellow at Imperial College's Materials department. She received her PhD in Materials Science in 2008 at the European Synchrotron Facility Elettra, Trieste in Italy. She was a post-doc with Prof. Manish Chhowalla at Rutgers University, NJ, USA, working on graphene for large-area optoelectronic applications, before joining Imperial College in 2010.
- Written by Paulette Clancy
(Photo credit: Used with permission, credit to: Imperial College London).
The pressure is on to find sustainable ways of producing energy. Bioenergy is one such choice and there are many ways of producing it – anaerobic digestion, fermentation, gasification, etc., but these processes operate at harsh conditions of temperature and pressure making the scale up process difficult. Microbial fuel cells seem promising; they use bacteria to turn organic waste matter into electricity. They are cheaper to operate than traditional processes and produce less waste. But their low power output efficiency has limited their commercialization. Generally, these fuel cells employ a cathode made of platinum. Though this catalyzes the reaction, it adds a lot to the manufacturing cost.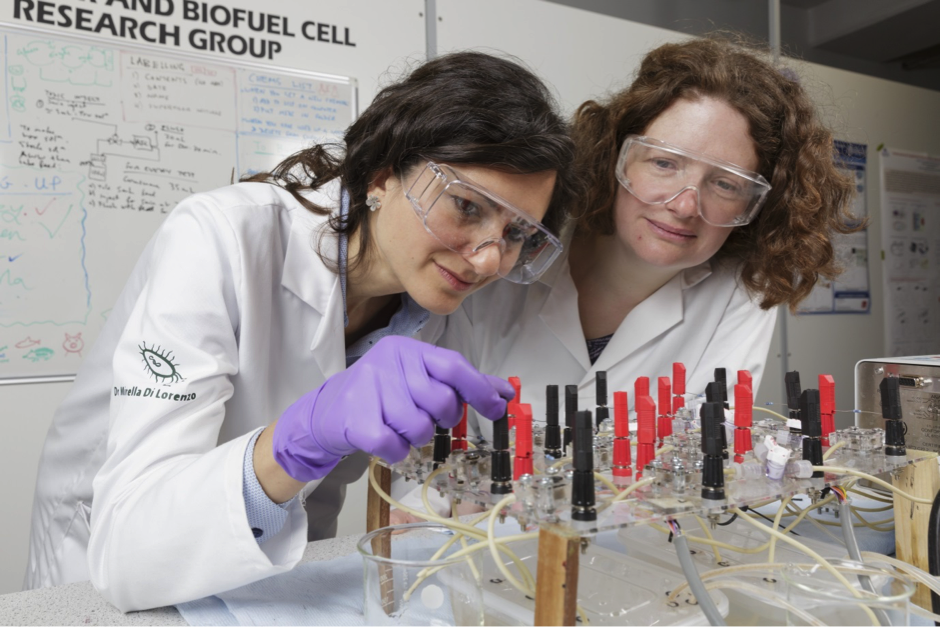 (Prof. Mirella Di Lorenzo (left) and Prof. Petra Cameron (right) in the lab working with microbial fuel cells.)
Researchers from the University of Bath (Profs. Mirella Di Lorenzo and Petra Cameron), Queen Mary College at the University of London (Prof. Maria-Magdalena Titirici and Katherin Preuß;), and the Bristol Robotics Laboratory have come up with a new design for Microbial fuel cells that convert waste matter, like urine, to electricity. What's remarkable about their design is that they completely eliminate the use of platinum! They used carbon and titanium wires as the cathode material, and glucose and ovalbumin, an egg protein, as the catalyst in their fuel cell design.
On average, a person produces 800 to 200 ml of urine per day. When multiplied by the global human population, this means that somewhere between 600 billion and 1.4 trillion mls of urine production will be produced in a single day. If these fuel cells can harness this resource, Prof. Mirella Di Lorenzo (Univ. of Bath) believes that it can revolutionize the way we produce electricity.
"We aim to test and prove the use of carbon catalysts derived from various food wastes as a renewable and low-cost alternative to platinum at the cathode. We have shown that the cell design has an incidence on performance and we want to further investigate the relevance of electrode surface area to volume ratio on performance. Our aim is to be able to effectively miniaturize the MFC and scale-up power production by generating compact batteries of multiple miniature units," added Di Lorenzo.
Mirella Di Lorenzo is a Lecturer and Director of post-graduate studies in the Chemical Engineering Department at the University of Bath. Her research interest lies in finding ways of making micro biofuel cells as practical source for power in number of biomedical devices including cardiac pacemaker, glucose sensors, bladder control valves, neuro-stimulators, etc.
Maria-Magdalena Titirici is a Professor in Sustainable Materials Chemistry and Director of the Centre for Functional Nanomaterials at Queen Mary, University of London. Her research interests include porous materials, hydrothermal carbonization, biofuels, CO2 sequestration, electro-catalysis in fuel cells as well as energy storage in secondary batteries and super-capacitors.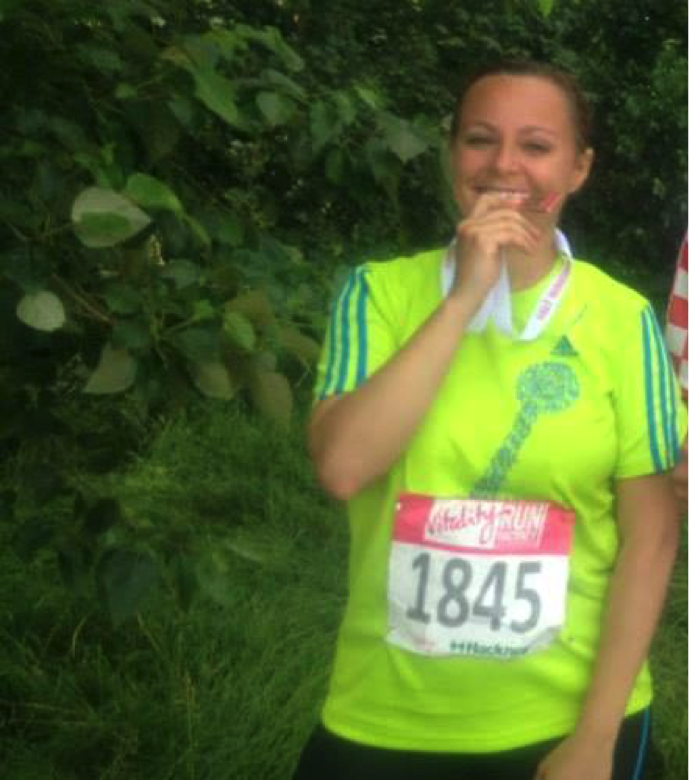 (Prof. Maria-Magdalena Titirici enjoys outdoor sports. This is her picture taken after running the Hackney Half-Marathon.)
Petra Cameron is an Associate Professor at the University of Bath. She is an expert in the preparation and characterization of photovoltaics, photo-microbial fuel cells and sensors. In 2009, she won the Harrison-Meldola prize from the Royal Society of Chemistry for her work on solar cells. Her group also studies surfaces and interfaces using electro-chemical and surface plasmon resonance techniques.
Kathrin Preuß is a PhD student at Queen Mary (London U.). She works on Pt-free electro-catalysts for the oxygen reduction reaction in fuel cells.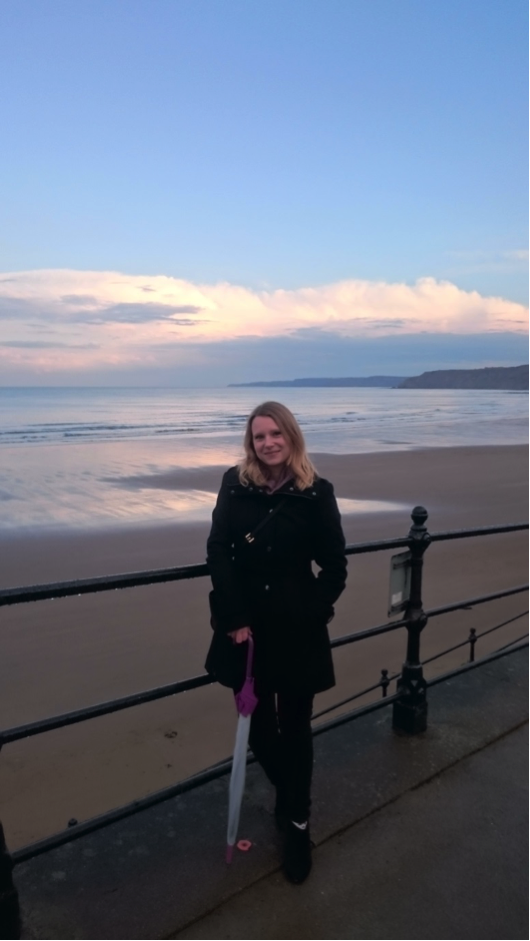 (Katherin Preuß at the 2016 Sustainable Functional Materials conference at Scarborough.)
- Written by Nakita Sengar, edited by Paulette Clancy
(Photo credit: Provided by and used with permission from Prof. Mirella Di Lorenzo, Prof. Maria-Magdalena Titirici, Prof. Petra Cameron and Katherin Preuß.)
Understanding human emotional responses remains quite a challenge. Finding solution to this problem is the purview of a new field of research called computational behavioral science. Computational tools are now being developed that can help monitor human emotions by keeping track of the subtle fluctuations in electrical signals produced by perspiration through the skin.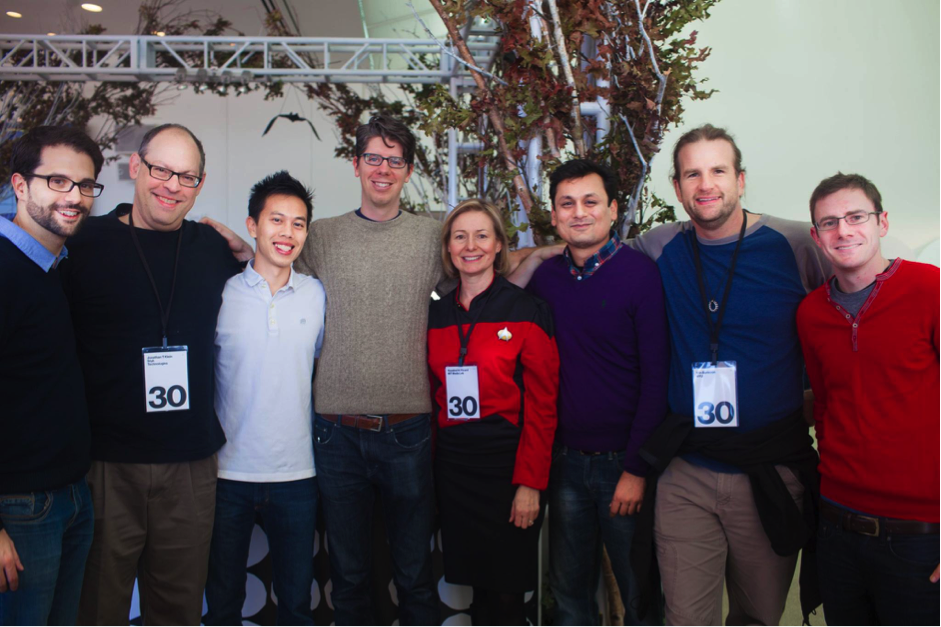 (Dressed as Captain Picard for reunion with her former graduate students, October 2015.)
Rosalind Picard, founder and director of Affective Computing at MIT is developing wearable wrist sensors that can effectively measure human emotional responses to social situations. Her group mainly targets children with autism and other non-verbal learning disabilities to help them understand and communicate their emotions and to be better understood by others. Picard's group also works to develop software that facilitates participatory learning. For example, they have developed an interactive and customizable animated platform called StoryScape that creates digital storybooks. It can be downloaded for free on Android devices. Read more here.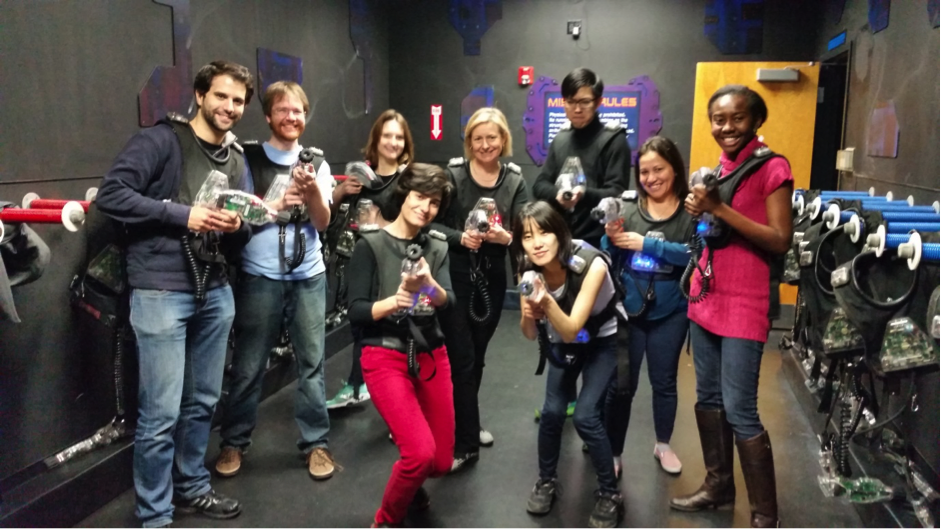 (Laser tag with her group at MIT.)
Professor Picard is also the co-director of the Media Lab's Advancing Wellbeing Initiative MIT Media Lab and faculty chair of MIT's Mind+Hand+Heart Initiative. She is credited with starting a branch of computer science known as affective computing. She has authored/co-authored over 200 articles and book chapters and has multiple patents on topics like machine learning, pattern recognition, and human-computer interaction. Her work has been recognized through awards including a 'best theory paper' prize for human learning (with Kort and Reilly, 2001), 'best Face and Gesture paper' prize for work with facial expressions (with McDuff, Kaliouby and Demirdjian, 2013) and 'best UBICOMP paper' for an automated conversation coach (with Hoque et al., 2013). CNN named her one of seven "Tech SuperHeroes to Watch in 2015."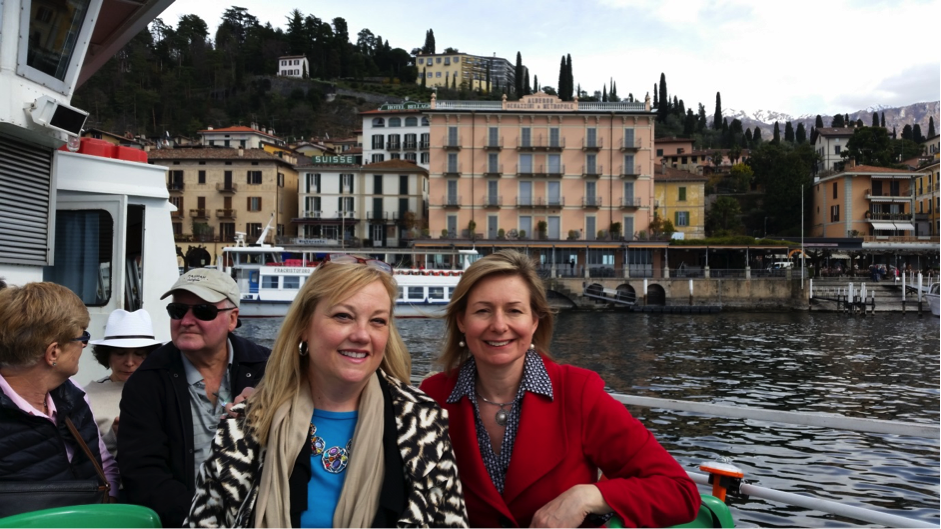 (Professor Picard having fun with her friend in Italy.)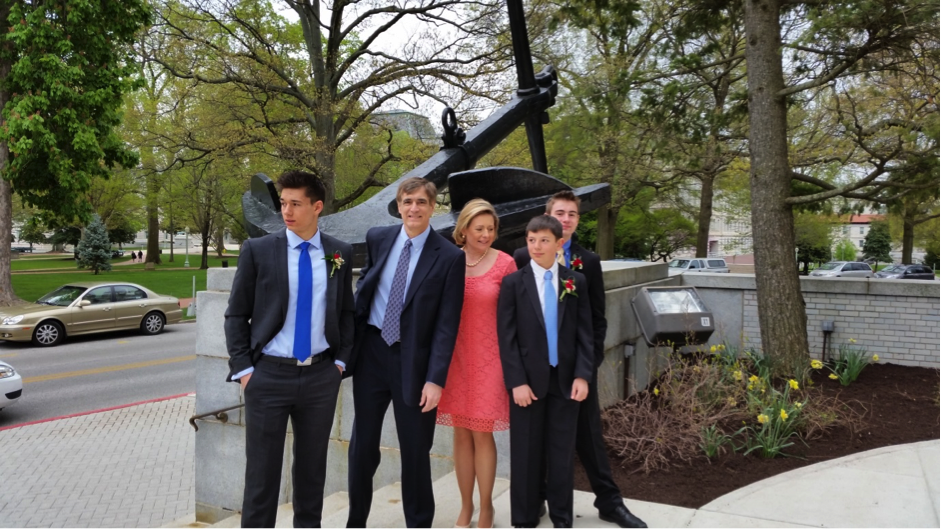 (Rosalind with her husband and sons at her mother's wedding, April 2015.)
- Written by Nakita Sengar, edited by Paulette Clancy
(Photo credit: Provided by and used with permission from Prof. Rosalind Picard).

/